What is ConstruSense – Construction Safety Module? A unified platform that combines Construction Safety Audits, LMS, Forms & Documents, and Toolbox Talks.
ConstruSense Safety Audits:
Features:
ConstruSense allows your employees to perform daily safety audits at job sites. ConstruSense is designed to facilitate the systematic assessment of safety practices and conditions on construction sites.
It streamlines the audit process by providing tools for site inspections and documentation
The software helps identify potential hazards, assess compliance with safety regulations, and enhance overall safety performance on construction projects.
Reporting features enable the generation of detailed reports for analysis and improve safety measures.
Forms & Documents Management Software:
Features:
Forms and documents management software in ConstruSense is designed to streamline the creation, storage, and retrieval of essential safety-related forms and documents.
It includes templates for incident reports, safety inspection forms, training records, and other documentation necessary for regulatory compliance.
Improved organization and accessibility contribute to better record-keeping and compliance with safety protocols.
Track who views documents. Request acknowledgments. Perfect for on-boarding tasks.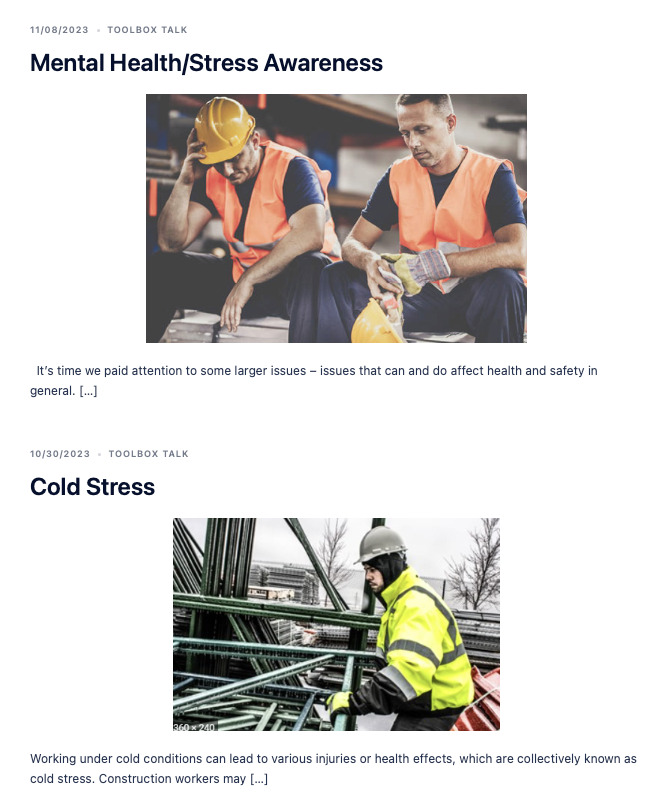 Toolbox Talks Software:
Features:

Toolbox talks is a tool for planning, conducting, and documenting on-site or off-site safety meetings.
It facilitates the creation and scheduling of toolbox talks, addressing specific safety concerns or practices relevant to the construction site.
The software encourages interactive discussions among workers, promoting engagement and knowledge sharing.
It helps maintain a record of toolbox talks, ensuring that safety information is consistently communicated and workers are informed about current safety issues.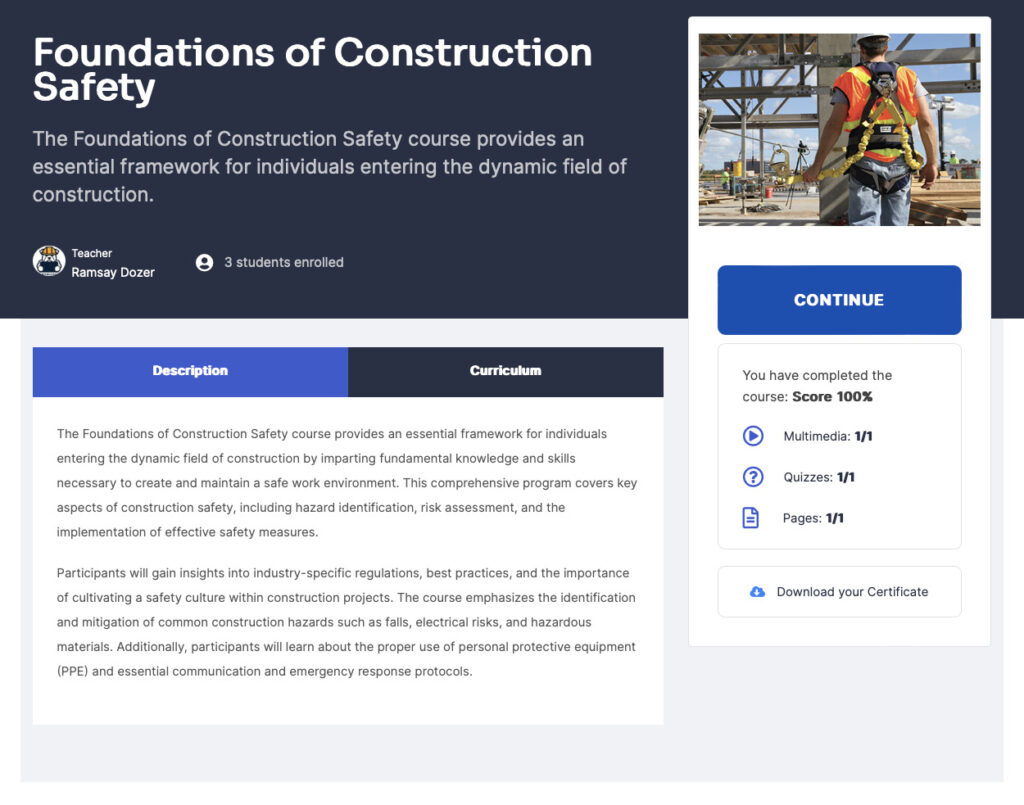 Learning Management System (LMS):
Description:

ConstruSense LMS is a centralized platform for managing, delivering, and tracking training programs and educational courses for Safety and other Construction topics.
It allows organizations to create, organize, and deliver employee safety training content.
Features include user management, enabling tracking of individual progress, assigning relevant courses, managing user profiles, and certificate of completion for employees.
Assessment and reporting tools help evaluate the effectiveness of training programs and ensure compliance with safety standards.
Sync your audit data with your ERP/CRM, Payroll, and HR systems
ConstruSense offers seamless integration with your existing ERP (Enterprise Resource Planning) and CRM (Customer Relationship Management) systems, allowing for the automatic synchronization of audit data. This integration ensures that all relevant information is up-to-date and accessible across different departments. Whether it's project-related data, financial records, or client information, ConstruSense streamlines the process by eliminating manual data entry and reducing the risk of errors.
Compliance Reporting
ConstruSense strongly emphasizes compliance reporting to ensure that your organization adheres to industry standards and regulations. The software provides robust tools for generating comprehensive compliance reports, simplifying the auditing process. Whether you need to meet regulatory requirements or internal standards, ConstruSense helps you track and document your compliance efforts, providing a clear and transparent view of your organization's adherence to guidelines.
Single-Sign-On with Microsoft/Google
Simplify user access and enhance security with ConstruSense's Single-Sign-On (SSO) integration with Microsoft and Google accounts. Users can seamlessly log in using their existing credentials, streamlining the authentication process. This enhances user experience and ensures a secure and centralized authentication system, reducing the risk of unauthorized access and simplifying administrator user management.
Support for Zapier expands automation to over 4,000 applications to automate your workflow.
ConstruSense supports integration with Zapier, a powerful automation tool that connects thousands of applications. This feature allows users to create custom workflows by automating tasks and processes across different platforms. Whether it's triggering actions based on specific events or automating data transfers between applications, ConstruSense with Zapier support empowers users to optimize their workflows and increase overall operational efficiency.
Coming soon:
Partner Integration with Plangrid/Autodesk Build
ConstruSense is continuously evolving to meet the dynamic needs of the construction industry. The upcoming integration with Plangrid and Autodesk Build expands the software's capabilities, providing users with enhanced project management tools. This integration facilitates seamless collaboration, document sharing, and project tracking, consolidating essential project data within ConstruSense for a more comprehensive view of your construction projects.
Ability to have your own custom-branded Safety App in the App Store/ Google Play store
Soon, ConstruSense can create a custom-branded Safety App on popular platforms such as the App Store and Google Play. This feature allows organizations to establish a strong brand presence while providing users with a dedicated app for safety-related tasks. From incident reporting to safety guidelines, the custom-branded Safety App ensures that safety protocols are easily accessible to all stakeholders, promoting a safety culture within the organization.
NO CONTRACTS – NO HASSLE – ONLY RESULTS
To ensure the quality of service and convenience for our customers, all of our services and development are 100% US-based out of our office in Minnesota. 
We can meet virtually or come to your office if you're across the country. If you're in Minnesota, please feel free to visit our office!